I have a 'go-to' list of quality and up-to-date sources of information that I continuously draw upon either as a reference, for training, detecting patterns and trends, or comparison and evaluation.
I have mapped the list to the data science process, and the skills and knowledge supporting it. I hope that it will save you time and help focus on relevant and key aspects using quality, vetted information.
The following graph provides an outline of the data science process and the skills and knowledge required to practice it.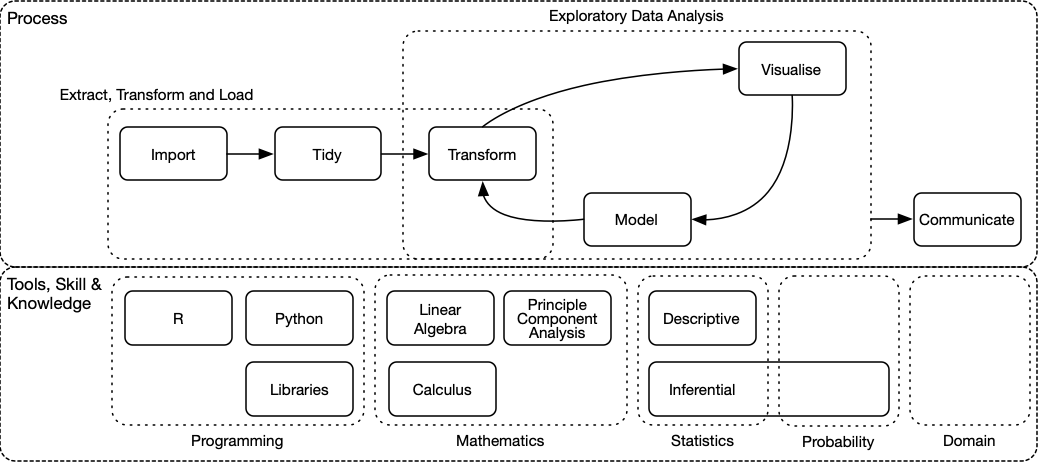 The process section of the graph is an extract from R for Data Science by Hadley Wickham and Garrett Grolemund.


Summary of the data-science process
Data analysis is the process by which data becomes understanding, knowledge and insight. Hadley Wickham, July 2013
Extract, Transform & Load
The first, and probably the most labour intensive part of the data science process is to prepare and structure datasets to facilitate analysis, specifically importing, tidying and cleaning data. Hadley Wickham wrote about it in The Journal of Statistical Software, vol. 59, 2014.


Tidy Data
Tidying data1 aims to achieve the following:

Each observation4 forms a row.
Each type of observational unit forms a table.

It attempts to deal with 'messy data', including the following issues:

Column headers are values, not variable names.
Multiple variables are stored in one column.
Variables are stored in both rows and columns.
Multiple types of observational units are stored in the same table.
A single observational unit is stored in multiple tables.


Null Values/ Missing Data
Most models are typically unable to support data with missing values. The data science process will, therefore, include steps to detect and populate missing data.
It can occur anywhere between the importing and transforming stages. Models can be used to guess values for more complex treatments, whereas a simpler approach could use aggregation during transformation.


Transform
The result of the transform step in the data science process is to:
reshape data, which could be used to produce tidy data,
transform data, like rescaling5 of numeric values, or reducing dimensions of categorical values using Principle Component Analysis
create new features, also known as 'Feature Engineering',
or a combination of the above that typically results in aggregation.


Visualisation & Modelling
In Feburary 2013 Hadley Wickham gave a talk where he described the interaction between visualisation and modelling very well.
Visualization can surprise you, but it doesn't scale well. Modeling scales well, but it can't surprise you.

Visualization can show you something in your data that you didn't expect. But some things are hard to see, and visualization is a slow, human process.

Modeling might tell you something slightly unexpected, but your choice of model restricts what you're going to find once you've fit it.

So you iterate. Visualization suggests a model, and then you use your model to factor out some feature of the data. Then you visualize again.
Table of resources in relation to Data Science
Process
Programming
Area
Language
Source
#
Title
Author
Reference
Python
Web
1
pandas
Wes McKinney
R
2
Tidyverse
Hadley Wickham, Various
3
Style guide
Hadley Wickham
R, Spark
4
SparklyR
Rstudio
Training
Python
Book
5
Python for Data Analysis: Data Wrangling with Pandas, NumPy, and IPython 2nd Edition
Wes McKinney
Web
6
Easier data analysis in Python with pandas (video series)
Kevin Markham
7
Best practices with pandas (video series)
Kevin Markham
8
Google's Python Class
Nick Parlante
9
Kaggle Learn: Python
Colin Morris
10
Kaggle Learn: Pandas
Aleksey Bilogur
R
Book
11
R for Data Science: Import, Tidy, Transform, Visualize, and Model Data 1st Edition
Garrett Grolemund, Hadley Wickham
Web
12
R for Data Science
Garrett Grolemund, Hadley Wickham
13
Kaggle Learn: R
Rachael Tatman
14
Introduction to Data Science with R How to Manipulate, Visualize, and Model Data with the R Language
Garrett Grolemund
SQL
Book
15
High Performance MySQL: Optimization, Backups, and Replication 3rd Edition
Baron Schwartz, Peter Zaitsev, Vadim Tkachenko
16
MySQL Stored Procedure Programming: Building High-Performance Web Applications in MySQL
Guy Harrison, Steven Feuerstein
Web
17
Kaggle Learn: SQL
Rachael Tatman
Visualisation
Model
Statistics
Probability
Statistics
Mathematics
Linear Algebra
Calculus
PCA
---